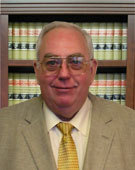 Attorney Timothy Healy was born and raised in a small town in Dubuque County, Iowa. His family operated a chicken hatchery and feed store where he worked through high school. He received a B.A. in Economics from Seattle University and J.D. from Gonzaga University Law School. Following law school, he served in the U.S. Army Reserve as an armor officer attaining the rank of captain.
He began his legal career in Chicago, Illinois where he was involved in construction law and representing plaintiffs in personal injury matters. Upon the death of his father, he returned to Iowa where he kept busy assuming management of the family's insurance agency, while also becoming the CEO of a mutual property casualty insurance company, in addition to establishing a solo law practice.
Mr. Healy relocated to Florida in 2003 in order to work for a national law firm where he formed numerous corporations, limited liability companies, limited partnerships, general partnerships and sole proprietorships. He also handled business litigation, wills, trust, estate planning, trademarks and copyrights, business contracts, shareholder agreements, partnership agreements, operator agreements, business acquisitions and mergers.
In 2010, Mr. Healy began working with a smaller firm where he developed an IRS tax settlement department and practiced primarily in foreclosure defense, consumer protection, bankruptcy and real estate law which led to the opening of his own practice in Boca Raton.
Mr. Healy is a member of the Florida Bar, the Illinois Bar, the U.S. District Courts for the Southern and Middle Districts of Florida, as well as the Northern and Central Districts of Illinois. Furthermore, he is admitted to the U.S. Tax Court.